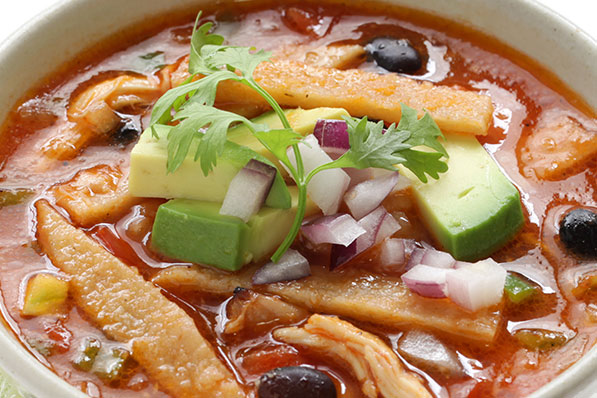 Mexican Tortilla Soup Recipe
Ingredients :
Serves 4 people.
½ of onion
2 cloves of garlic
100 grams equivalent to 3.5 ounces (oz) of mozzarella cheese
Epazote to taste (Mexican delicious herb), - fresh and abundant - if not found, oregano, coriander and parsley all together.
1 tortilla per person
5 red tomatoes
2 cups water
1 toasted pasilla-type chile to garnish
sour cream or yoghurt
sea salt to taste
3 teaspoons of olive oil
½ cup of oil to fry tortillas (your choice)
Preparation:
The five red tomatoes can be roasted on a griddle as well as the garlic and the onion.
Then place everything in a blender. Even though some tomatoes turn brown, they may be peeled or not. (optional) Grind. Pour the contents into a hot pan with the 3 tablespoons of olive oil. Add salt.
Let it simmer for ten minutes.
Once seasoned, add two cups of water. Add fresh epazote and let it boil for another five minutes.
Toast the pasilla chile on the griddle.
Cut the tortillas into strips with the scissors and fry them in 1/2 a cup of hot oil. They take 20 minutes or more.
Place them on absorbent paper to remove the excess of oil.
To serve each dish pour the broth in a bowl, pour the tortillas so they're crispy within each dish, add a bit of pasilla chile, cream or yoghurt and cheese to taste.