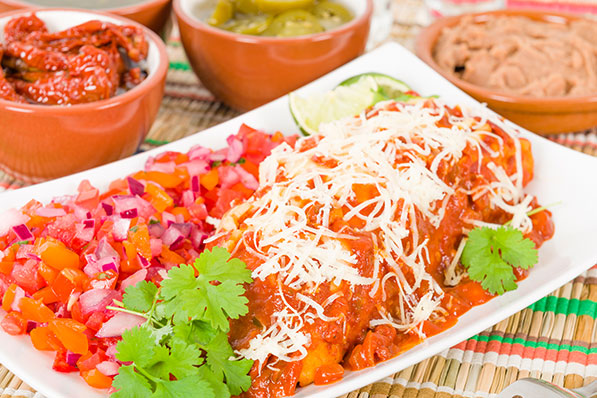 Mexican Red Enchiladas Recipe
Ingredients
for 24 enchiladas: serves 6 people.
1/2 of a large white finely chopped onion
4 cloves of finely chopped garlic
3 teaspoons of ground black pepper
1 can of tomato puree equivalent to 3 ounces (oz)
1 kilogram and a half (1.5 kg) of shredded boiled chicken (boil chicken with water for 20 minutes to obtain soft meat)
24 tortillas
1 cup of water
10 chopped tomatoes
3 tablespoons of olive oil
¼ of sliced onion and sliced lettuce to garnish
salt and pepper to taste
sour cream or yoghurt to taste
300 grams (grs) of shredded mozzarella cheese or feta cheese to sprinkle over enchiladas
optional mild jalapeños to garnish
Preparation:
Pour the three olive oil tablespoons on a fry pan on low heat. Immerse the tortillas one by one until they soften. Remove and place them on absorbent paper to absorb the remaining fat.
In the same fry pan add the chopped onion until it becomes translucent. Then place the garlic and the chopped fresh tomatoes. Fry lightly. Remove and pour all these ingredients in the blender to obtain a liquid sauce.
Pour the sauce into the same fry pan to cook. Add the tomato puree sauce and the cup of water. Leave to cook for ten or fifteen minutes on low heat.
Once the sauce is ready, dip the tortillas one by one the into the sauce and place one by one the dipped tortillas over the fry pan on medium heat in order to fill them with previously shredded warmed chicken or any kind of vegetable.
Fold them in two. And be sure to serve them hot. Do not leave them too long over the heat because the tortillas may harden and this plate is known for the softness of the tortillas.
Immediately serve 3 or 4 on a plate. You may add some more warm sauce on top, sour cream or yoghurt, shredded mozzarella cheese, rings or minced raw onions and lettuce to garnish. This is the style of Mexico´s city red enchiladas.