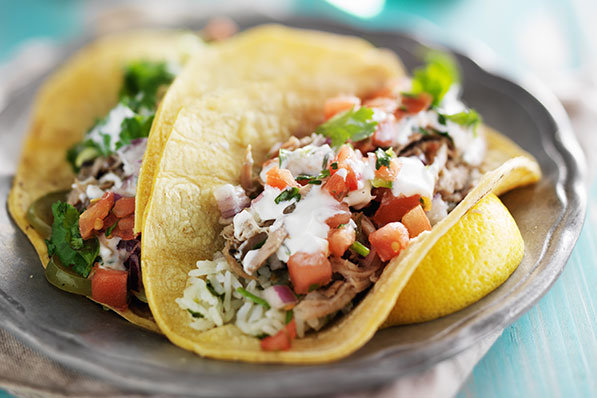 Delicious Tasty Mexican Tacos Recipe
Ingredients:
Serves 6 people.
1 pound (pd) equivalent to 500 grams (grs) of chicken thighs. (After meat has boiled it turns to ½ pound (pd) which is equivalent to 250 grams (grs) or 5 thighs.)
3 ounces (oz) of chopped yellow onions equivalent to 115 grams (grs)
2 tablespoons of mazola oil
2 ounces of tomato sauce puree equal to 80 grams (gr)
1 teaspoon of salt
½ cup of chicken broth
2 smoked chipotle pepper (without seeds) equivalent to 1 ounce (oz) or 40 grams (grs)
(You can buy a can at the grocery store, Hispanic or Latin section.)
Preparation:
Place the chicken in a pot. Be sure to pour water until chicken is covered by water. Boil for 30 minutes on medium heat. Insert a fork into a piece of meat to know if the meat is already soft. If it is soft it means it is cooked. Remove from fire. Let it cool down for ten minutes and then soak. Shred the chicken.
On a fry pan pour the oil on low heat. Add the onions and let them turn translucent. They take about ten minutes. Then add the shredded chicken. Let it mix with onions for 5 minutes. Set apart from fire.
To prepare the sauce, use a blender. Pour the tomato sauce puree and smoked peppers, the ½ cup of chicken broth and salt the salt to blend. Then pour this sauce into the skillet where chicken and onions have been set aside.
For this recipe flour tortillas are used as a tradition. The tortillas should be warmed, then filled with the prepared chicken and rolled in. Served with rice and beans.
These tortillas may be kept frozen and preheated into the microwave. Or taken out two hours before meal