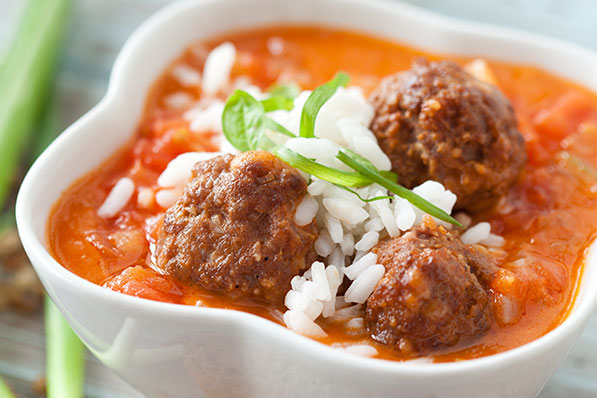 Mexican Meat Balls Recipe
Ingredients :
Serves 8 people.
1 kilogram (kg) of ground beef or ground veal which equals 2.2. pounds (lb)
1 medium chopped onion
3 garlic cloves
2 cans of tomato puree sauce or roasted and peeled tomatoes / 4 ounces (oz) equivalent to 160 grams (gr)
3 tablespoons of olive oil or sunflower oil
3 tablespoons of bread crumbs
a pinch of salt
1 cup of water
pepper to taste
2 smoked chipotle pepper (without seeds) equivalent to 1 ounce (oz) or 40 grams (grs). At the grocery stores, Mexican section.
chopped Mint or cilantro
Preparation:
In a blender grind the tomatoes, the onions, garlic and chipotle pepper. Add a pinch of salt. Set aside.
On a skillet add three tablespoons of olive oil or sunflower oil over medium heat. Add the liquefied sauce and let it fry for five minutes. Add the cup of water at the end. Set aside.
On the other hand place the meat into a round mould, add the bread crumbs, the chopped mint or cilantro, salt and pepper to taste. Mix well. Make the meatballs by hand to the desired size. Introduce the meatballs into the sauce and let them cook for twenty to twenty-five minutes on low fire. Cover with a lid.
Remove from heat after 25 minutes. Serve with white or red rice.
Optional: You can use chipotle type pepper for a smoky flavor when preparing the sauce.